Deliver perfect presentations!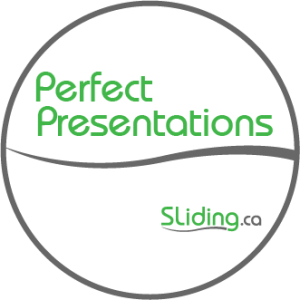 Imagine having the skill and confidence to stand before any audience and deliver Perfect Presentations. At Sliding.ca we train and coach people just like you to do exactly that.
Every presentation consists of three elements: Design, Delivery and Structure. Design is the element that brings consistency to the message you are trying to convey. Delivery is the element that helps you to connect with your audience and inspire them to action. Your Structure is the blueprint for your presentation, the element that provides you with the confidence to stand before your audience, under any circumstances, and share your message in a clear, concise and compelling way.
Put them all together and you'll soon be delivering Perfect Presentations each and every time you stand before an audience.
"It is an amazing lesson! I applied all the tips in my last presentation, and it did the trick! Highly recommend it!"

Maya Bogatskaya, EIT, AutoCAD Drafter at Contractor – Toronto
Every time we stand before an audience to deliver a presentation we are being provided an opportunity. Whether we are communicating with co-workers, clients, or potential clients, we are being given the opportunity to deliver our message, inspire our audience to action and to improve our bottom line. Good things come from effective presentations!
Over the course of the Perfect Presentations seminar, you will learn how to structure narratives and script engaging and persuasive storylines. The perfect presentations seminar will teach you how to define the order and contrast of plot elements and create a strong platform that supports your message and ensures that it hits home with your target audience.
During the course of the Perfect Presentations seminar, you will learn how to create professional-looking slides that enhance and clarify your message. Well designed presentations work for you by looking professional, maintaining thematic consistency, and reinforcing your core message. By learning to harmonize every element of your presentation you will be able to set a positive emotional mood and eliminate any subliminal incongruity that may distract and divide your audience's attention.
By attending the Perfect Presentations seminar you will learn how to stand before any audience with skill and confidence and deliver a speech or presentation in a clear, concise and compelling fashion. You will learn how to actively build rapport with your audience, keep them engaged and focused on your message while seamlessly interacting with your visual aids.
Whether you're just starting out or seeking the competitive advantage that will establish you as the expert in your field Perfect Presentations will provide you with practical information that you can immediately begin to apply to improve your bottom line.
For more information on the Perfect Presentations Seminar, please contact us at: info@sliding.ca