Take your presentations skills to the next level
with personalized presentations coaching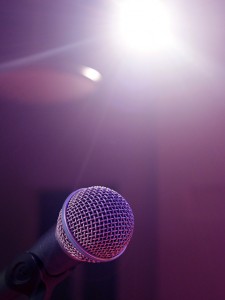 Developing your presentation skills is just like developing any other skill; it takes practice. But practice by itself is not enough, especially if your aim is to continue growing. The problem is that repetition reinforces ALL of your habits without differentiating between your good habits and your bad habits. Presentations coaching from Sliding.ca provides the answer to this problem.
Presentations coaching not only provides you with an objective analysis of your strengths and weaknesses it also accelerates your improvement by magnifying your strengths and transforming your weaknesses into assets. This is why so many top performers in so many varied professions all hire coaches.
Audiences tend to equate outstanding presentation skills with experience and expertise. Outstanding presentation skills are also associated with business success and higher earnings. Our presentations coaching mission is to help you to improve your skills and to reinforce the aura of poise and confidence you project to your audience and your peers.
I received extraordinary coaching from the Sliding team in preparation for a major presentation I recently delivered at a conference in Cleveland. In fact, they changed my whole method for preparing and presenting to a large public audience. They coached me to change my tried and true "safe" style of preparation to the SLIDING method that resulted in a dynamic presentation—exciting and light-years ahead of traditional methods. I felt like I had joined the 21st Century of presenters. The response from my audience was instant and sustained. They loved it, and they really got my message. I'll never go back!

Karen Lynn, English Language Coach and Trainer
Presentations coaching will help you to capitalize on your individual strengths
Sliding.ca presentations coaching will help you to improve your presentation skills without cramping your style. Your individuality sets you and your message apart. We will help you to capitalize on your strengths in order for you to put your best foot forward and connect with your audience.
Presentations coaching from Sliding.ca is face to face and personal with plenty of positive reinforcement delivered in a relaxed, laid-back manner. Let us share our insights with you and help you to enhance your strengths and highlight your natural style.
Presentations coaching will help you to recognize and get rid of annoying habits.
Presentations coaching will help you to identify those unconscious habits that may be sabotaging your delivery. At Sliding.ca we will help you to identify and prioritize those habits so that you're able to concentrate on replacing them with new habits that generate the fastest improvement in the shortest amount of time.
Presentations coaching with Sliding.ca will provide you with a strategy that's easy for you to follow. Even if you have a super-busy schedule you'll be using your new skills in an amazingly short period of time and in as natural a way as possible. Presentations coaching is also the perfect tool for helping you to take a step back so that you can see the cause of any uneasiness you may be experiencing as a presenter. With presentations coaching you will quickly learn to conquer this nervousness.
Whether you are an occasional presenter or you make your living as a speaker, you can benefit from presentations coaching. If you're serious about improving your presentation skills contact us at Sliding.ca; we'll be happy to discuss your needs with you and set you on the path towards becoming a poised and skilled presenter.
For more information about Presentations Coaching please contact us at: info@sliding.ca