Master our straight forward principles and transform your presentation delivery from okay… to oh-wow!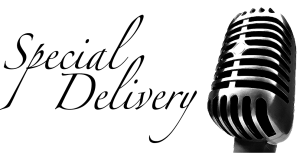 You've organised your content, you've prepared your message, you've created your slide presentation… now it's time to put it all together and deliver a seamless performance that will leave your audience inspired and ready to take action.
In our increasingly competitive 21st Century business environment establishing a connection is vital if you hope to deliver a message your audience will embrace. We will help you to establish that connection.
Join us for this informative, highly-interactive, fun-filled workshop and learn to:
Turn your equipment into a welcome member of your team.
Take to the stage with confidence and establish immediate rapport with your audience.
Deliver a performance that generates the magic your audience will respond to.
Special Delivery is a complete 3-D look at presenting – Software (Design), Hardware (Equipment), and Art (Speaking Skills). In my mind, the best lesson of all was to not "settle". Don't settle for the templates that PowerPoint wants to provide. Master your equipment – don't just connect cables and switch on the projector. Don't settle for a good presentation when you can use a myriad of techniques to be special to your audience. Don't forget to take your manual home. It's valuable.

Bruce Bullock, Training Specialist at Advanced Utility Systems – Toronto
Consider this analogy.  Imagine you've just cooked a meal for your friends or loved ones. You've spent all day gathering your ingredients, preparing them and cooking them to perfection and now it's time to sit your guests down and present them with your creation.  Would you prefer to serve your meal on fine china or would you prefer to set out your meal on paper plates with plastic knives and forks?  Your presentation is like that meal.  A perfect structure and a brilliant design can lose all its impact if your delivery doesn't resonate with your audience.
During our Special Delivery workshop you will learn how to make your equipment work to your advantage instead of feeling as though you're in a constant struggle to make it work and keep it working throughout your presentation.  You will also learn what to do when things do go wrong and you have to respond to unforeseen circumstances.
Establishing a connection with your audience is vital if you want your audience to listen to your message and be inspired to act on it.  During our Special Delivery workshop you will learn how to take to the stage and quickly develop a rapport with your audience that will build as your presentation unfolds.
Effectively using your stage and skilfully interacting with your audience can make the difference between a ho-hum presentation and a Special Delivery.  During our Special Delivery workshop you will learn how to use your stage effectively and interact with your audience in a way that will resonate with them and get you the results you had hoped for.
For more information on Special Delivery please contact us at: info@Sliding.ca