Define your current reality as a presenter with a professional presentation evaluation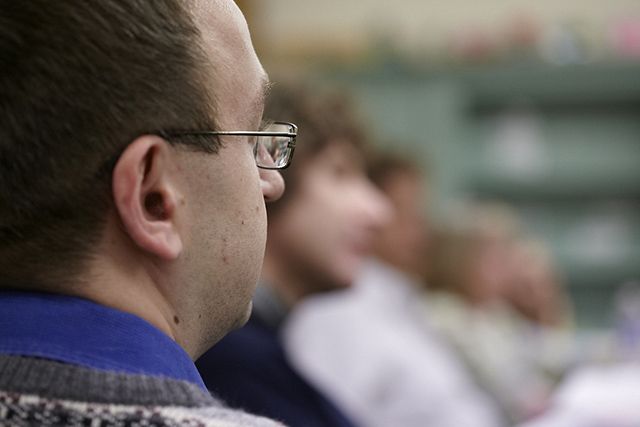 In a fast-paced business environment not everyone has the time to invest in coaching sessions.  For those busy professionals a viable option may be a presentation evaluation by Sliding.ca.  We will visit your place of business, sit in one of your presentations, and provide you with a verbal and written assessment.
A professional presentation evaluation is more objective than self-evaluation and serves to unveil blind spots that can keep you repeating the same mistakes time and time again. An objective presentation evaluation will help you to advance much more quickly and easily.
A presentation evaluation is simply a representation of your strengths as well as your opportunities for growth in the three key presentation aspects of structure, design and delivery. A presentation evaluation is generally divided into three categories of change: what to stop doing, and what to start doing, and what to improve upon. Once you identify where you are on the map of success you can chart your path accordingly.
I found the presentation evaluation session particularly helpful. It provided me with time to reflect on the process, my performance and to determine the areas that I need to improve upon. It also enabled me to refocus my goals and develop new strategies for approaching presentations and my work more generally. Thanks so much! Elsa Dinsdale, Research Fellow at The Hospital for Sick Children
Determine your learning gaps with an objective presentation evaluation
Where's your best return on your time investment? Is it developing your vocal variety, removing bullets from your slides, or crafting a more compelling narrative? A presentation evaluation helps you to leverage your time and effort effectively to bring you the quickest results. Trying to change your presenting habits all at once can be overwhelming and paralyzing.  When you're trying to shake off a nervous, distracting habit or adopting a new audience engaging technique, you will make the greatest gains when you focus on one aspect at a time. An objective presentation evaluation outlines exactly which facets of your presentation you need to focus on, and provides you with a strategy for prioritizing them.
Set and achieve realistic presenting goals with a presentation evaluation
Not only does a presentation evaluation help you to set goals and determine what you must learn and practice along the way to mastery it is also an invaluable tool to help you gauge your own progress. When you look back you will be able to see the more noticeable differences and identify your growth points as well as where you have fallen short. With a clear picture to look at you will be in a position to reset your new target and continue to develop steadily and systematically as a presenter.
For more information on Presentation Evaluation or to discuss your needs, please contact us at: info@sliding.ca.