When setting a mood, music may be your most powerful tool.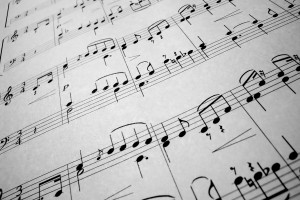 I was watching the Golden Globes awards show last Sunday evening when they presented the award for Best Original Song (the winner was "Writings on the Wall" from the movie Spectre). It reminded me of the power and importance that music plays in setting a mood in a movie, event or presentation. I have to admit, although I like the song Writings on the Wall, Spectre was not my favorite movie. That said, I did recently watch a television series in which a song played a very important part. The show is River, a British detective show starring Stellan Skarsgård. The song is an old one, from 1976, called "I Love to Love (But My Baby Loves to Dance)" by Tina Charles. The song is so well placed and so perfectly sets the mood for the show that I now can't think of that scene without hearing the song in my mind or hear the song without having that scene flash past my mind's eye. Music has that power.
Think back to some of your favorite movies. When you hear Elmer Bernstein's theme from The Great Escape you know you're in for action and excitement. The theme from The Pink Panther tells you you're in for something more lighthearted. More recently, when you hear the theme from Star Wars you know you're in for something epic and adventurous. Music affects us and informs us.
So, the next time you prepare to stand before an audience, ask yourself, what do I want them to feel and what type of music will best prepare them to be receptive to my message. Do I want an upbeat audience or a more contemplative audience? Do I want to take my audience on a journey and have them leave feeling differently than when they arrived?
Then, begin a music search and find some tunes you can play as your audience enters your venue, or as they leave the venue following your presentation. The songs you choose don't have to be loud, rousing or overbearing; the idea is to set a mood and gently prepare your audience for your message rather than to stir them or bring them to their feet. When we at Sliding.ca prepare a venue we try to bring a couple of small speakers with us but you don't need a high end sound system to accomplish your goal. Again, this is about setting a mood not moving people. Think of it as providing your audience with a palette cleanser for the ears prior to the meal of your message.
Always remember, for members of the audience, your presentation begins the moment they enter the venue. Anything you can do to create an environment that supports your message works in your favour. Music can make a great contribution to that effort.
Cheers, Patrick.